Prolific author, Reno Omokri takes to social media to issue out another veritable piece of advice to men (bachelors), as he urges them to find their purpose in life before getting a wife.
According to Reno, a man ought to find his purpose in life first and after this is done, a good wife will naturally come his way.
Citing an instance in the bible, Reno buttressed the fact that God created Eve only when Adam identified his purpose, which has to do with taking care of the garden of Eden.
He wrote:
"Dear men,
If you have not found your purpose or success, don't find a wife, because you won't be able to fund her. If you find a wife before finding your purpose and success, most likely, you have found trouble. When you find purpose and success, the right woman will find you. God only brought Eve to Adam when Adam found his purpose (caring for the Garden of Eden). You do not need a wife simply because you have sensual urges. You need a wife when you have a life that is successful enough to accommodate other people"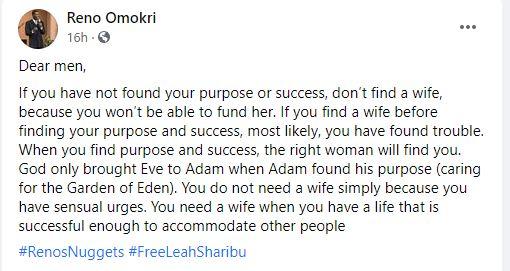 https://www.youtube.com/watch?v=io4WDvAyAp0
Check out more breaking and trending stories on alreadyviral.com, Kindly Subscribe to our Youtube Channel for more trending and interesting videos & don't forget to join our Telegram group for exclusive updates.